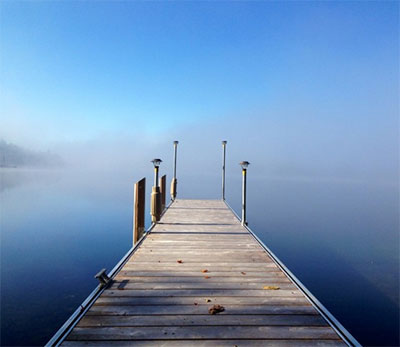 Square Pond is located on the border between Shapleigh and Acton, in southern Maine. The lake is spring fed and has few other natural inlets or outlets.

In the 1800's, a small canal was dug connecting Square Pond to Goose Pond. A gate controls water flow from square Pond to Goose Pond. Flow is the responsibility of the town of Sanford. Goose Pond is connected via a small natural channel, to Mousam Lake.

Mousam Lake is the primary source of the Mousam river, which flows thru Springvale and Sanford, on its way to the sea. Years ago, textile mills in Springvale and Sanford relied on power generated by the water flowing down the Mousam river.

River volume was maintained in the dry summer months by opening a gate at Square Pond, releasing the lake water into Goose Pond and subsequently, into Mousam Lake and the Mousam River. Eventually the textile mills closed and the controlled release of the water stored at Square Pond was no longer needed. The lake level was stabilized and the character of Square Pond quickly changed.

The shoreline around the lake has become a popular vacation spot for local residents and also for summer vacationers from greater Boston. Close proximity to heavily populated Eastern Massachusetts, together with the lake's semi secluded environment, have made it a popular place for those seeking to escape the hustle and bustle of urban living.

Today, most of the lakefront property is owned by summer residents from out of state. Over 400 camps and residences dot the shoreline. Many are now owned by second and third generation families. Each year, a few more "camps" are converted for year round residences.

The Square Pond Improvement Association (SPIA), an IRS 501C-3 organization, was formed by Square Pond lake shore property owners in approximately 1958. SPIA is dedicated to protecting the lake environment, especially water quality, shoreline and area wildlife. The SPIA is also active in promoting group recreation and water safety awareness.

SPIA By-Laws require the Annual Association meeting be held on the last Sunday in June, and the 2nd Annual Association meeting is held on the last Saturday in August. SPIA membership is open to all residents of the Square Pond lake front properties and ROW properties. SPIA's Tax Deductible Annual Membership Dues is $25 for the basic membership, our Gold ($50), and Platinum ($100) level memberships are used to fund additional lake improvement projects. SPIA Mailing address for annual SPIA membership is: SPIA, PO Box 326 Shapleigh, ME 04076.

Meeting locations are always announced in the SPIA Newsletter. The SPIA Website Calendar link also reports the upcoming meeting location.